200 Reasons to SaveWOY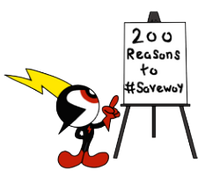 The project 200 Reasons to SaveWOY was launched on April 9th 2016 by Peepsqueak. This project was SaveWOY's first letter writing campaign. The idea was to give Disney 200 reasons that fans came up with about why Wander Over Yonder should be given a third season. [1]
For the campaign, fans registered through a Google form to take part in the project. Fans could either use their own reasons about why they wanted to save the show or they could sign up for an already existing reason that was taken from the SaveWOY petition comments.
Fans were to write down/type out the reason(s) onto paper and encouraged to decorate the letter(s) with pictures, stickers and lots of colors. Some fans wanted to send their own reasons to SaveWOY but were unable to mail letters so Peepsqueak wrote and sent letters on their behalf to ensure that everyone could take part, bringing the final total of letters up.
The letters were all mailed to Disney Channel's President, Gary Marsh, during April in the hopes of them all reaching him within that month, thus bombarding him with letters.
The Reasons
Reasons to SaveWOY ranged from the crew still wanting to continue the show, young siblings who were upset to see their favorite show ending, fans who still needed to show to continue supporting them, The recent Annie Award win, the show saving fans from suicide and fans wanting to find out more about the characters. There were many different reasons submitted to Disney.
The Letters
The Result
The final number of letters sent to Disney were 203. Dave Thomas stated that he had seen SaveWOY letters in the Disney executive's offices. [2] [3]
References
↑ http://peepsqueak.tumblr.com/post/141796765737/operation-200-reasons-to-savewoy Peepsqueak announces the project
↑ http://owner-of-wendys.tumblr.com/post/143430800689/are-the-people-in-charge-of-renewing-the-show Dave states that he has seen SaveWOY letters in the offices.
↑ http://owner-of-wendys.tumblr.com/post/146637069924/thank-you-for-a-great-show-were-going-to-fight Dave states that the letters are getting noticed