Merchandise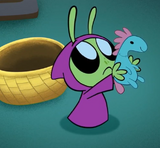 Wander Over Yonder originally didn't get any merchandise until after it was canceled. There were plans for merchandise made by the crew just as season 2 was starting up but unfortunately nothing happened with those plans and the planned merchandise was scrapped.
The Personalization Shop
After the show's cancelation and the sudden surge in fans supporting SaveWOY, Disney started selling personalised t-shirts, bags and throw pillows on their personalization shop. They later added more merchandise such as mugs, laptop sleeves, lamps, wallets and mouse pads.
However, only customers living in the US can currently buy this merchandise. Disney's suppliers do not currently ship worldwide.
You can view and buy the merchandise here.
Proposed Merchandise
Craig McCracken told us over Tumblr that as Wander Over Yonder season 2 was starting up, the heads of Disney XD were going to be meeting with Disney Consumer Products to talk to them about possibly of merchandising some Disney XD shows.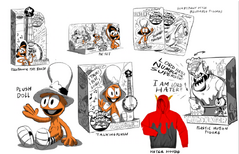 "Part 3 of "Toys That Never Were" Back at the end of Season 1 and just as we were starting Season 2 we got word that the heads of XD were going to be meeting with Disney Consumer Products to talk to them about the possibility merchandising some of the XD shows."
"Wanting to convince consumer products that there was a lot of potential in making stuff for Wander our Art Director, Alex Kirwan did these sketches as a visual aid to spark the conversation. Unfortunately nothing ever really happened in regards to Disney getting behind a Wander merchandise plan so these drawings are all we have to show what could have been"
In an attempt to show Disney that there was interest in more Wander merchandise, particularly the planned merchandise, a survey was set up to see how many fans would buy these products if they were made available. In total, 2040 fans expressed interest and the survey results were sent to Disney Executives on two flash drives along with the petition on July 22nd 2016.