A Gift From The Crew
On June 27th 2016, the day the finale of Wander Over Yonder premiered, the crew got together to watch the finale live. The Producer & Supervising Director for Wander Over Yonder, Dave Thomas, got the rest of the crew to sign a Wander Over Yonder poster for Peepsqueak as thanks for starting the SaveWOY campaign.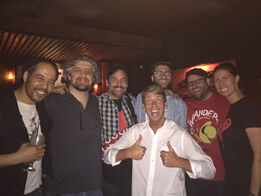 "There's no way we could ever thank Peepsqueak for starting #SaveWOY,  but I thought maybe a poster signed by Jack McBrayer, Keith Ferguson, Craig McCracken and the rest of the Wander crew would be a good place to start.
And thank you to everyone who signed the petition. It meant so much to everyone on the show. We don't know what the future holds, but you've given us all hope - and for that I am eternally grateful." [1]
Peepsqueak's Signed SaveWOY Poster
References
↑ http://owner-of-wendys.tumblr.com/post/146608435364/theres-no-way-we-could-ever-thank-peepsqueak-for Dave Thomas revealing the poster