SaveWOY Wiki Home
Welcome to the #SaveWOY wiki!
This Wiki is all about the #SaveWOY campaign to save Disney XD's show, 'Wander over Yonder' from cancelation. The show was unfairly canceled against the crew and creator's wishes. The WOY crew had many exciting things planned for a third season but were denied the chance to use them by the Disney channel executives.
SaveWOY was set up to give the crew a chance to finish their story, for the fans to get some closure, so WOY could continue teaching valuable life lessons, keep inspiring and cheering up its fans and to continue supporting its fans who suffer from illnesses, anxiety, depression and more.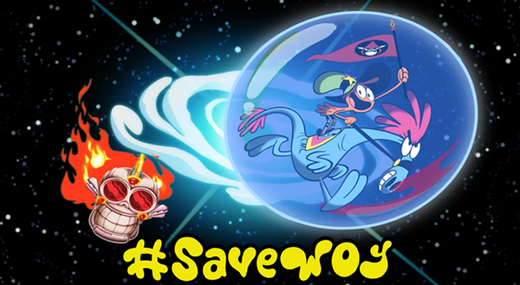 About the show
Wander Over Yonder is an American animated television series produced by Craig McCracken for Disney XD. The story follows Wander, a happy-go-lucky nomad who with his best friend, Sylvia, travel the galaxy together in search of folks who are in need of help. While along the way thwarting Lord Hater's plans to conquer the galaxy as Wander seeks to make Lord Hater his friend.
In season 2, a bigger threat emerges - Lord Dominator. Wander and Sylvia must find a way to stop Lord Dominator from completely destroying the galaxy while Lord Hater and the other villains try to top the villain leader board by conquering planets.
What's SaveWOY all about?
In August 2015 the crew of Wander over Yonder were told by Disney executives that they would not be getting a third season. The crew intended for the show to have at least three seasons and so they kept a lot of plot ideas back for the third season only to find that they did not get that third season. The cancelation came as a big shock to both the crew and eventually the fans after being told on March 5th 2016. The fans deemed this decision to be unfair and thus the #SaveWOY campaign was set up.
The show teaches invaluable life lessons, acts as a crutch for fans suffering from anxiety, depression, illnesses and more. The show inspires positive thinking, hope, friendship, kindness and helping others.
SaveWOY currently has 36,000+ supporters and several projects set up by fans have been taking place since March to help show Disney that canceling Wander over Yonder was a mistake and in the hopes that it will encourage Disney to change their mind and renew the show.
Have you signed the SaveWOY Petition?
Have you sent Disney a SaveWOY letter?