SaveWOY Thunderclaps
The SaveWOY campaign has so far had two thunderclaps launched in order to promote the show and the campaign.
Thunderclaps are used to give hashtags a boost in an attempt to get them trending. Supporters sign up to the thunderclap by submitting their Tumblr, Twitter and Facebook accounts and granting thunderclap permission to post the message at the time set by the organiser. The thunderclap then counts down to the set deadline and one it hits that deadline it posts the message on all of its supporter's social media accounts at once.
The First Thunderclap
The first thunderclap was organised by Lenny Mosco (Lennythereviewer). It was launched on March 25th 2016 at 12pm. This thunderclap served to inform the fans that the show had been canceled and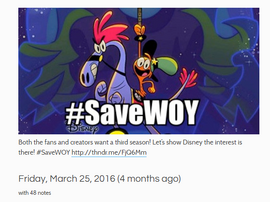 promote the #SaveWOY campaign. [1]
The thunderclap had 713 supporters, achieving a lot more than its goal of 500 supporters. This thunderclap posted a message to its supporters Twitter, Facebook and Tumblr pages saying:
"Both the fans and creators want a third season! Let's show Disney that the interest is there! #SaveWOY http://thndr.me/cCKEfb"
The Second Thunderclap
The
second thunderclap
was organised by
kureisan28
. It was launched on June 6th 2016 at 11am. The thunderclap's goal was to promote the final few episodes of Wander Over Yonder in order to attract more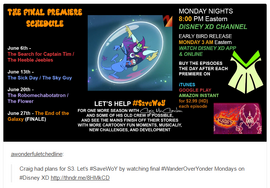 fans to the show and inform fans of the finale if they didn't already know about it.
[2]
The thunderclap had 272 supporters, above its goal of 250 and it had a social reach of 128,963. The thunderclap posted on it's supporters Twitter, Tumblr and Facebook accounts with the message:
"Craig had plans for S3. Let's #SaveWOY by watching final #WanderOverYonder Mondays on #DisneyXD http://thndr.me/cT7E46"
References
↑ https://www.thunderclap.it/projects/39025-save-wander-over-yonder The first thunderclap.
↑ https://www.thunderclap.it/projects/42537-watch-final-wander-over-yonder The second thunderclap.