Trending Twenty-Seventh
Trending Twenty-Seventh is a small scale ongoing project of the SaveWOY campaign. It is currently only held on Tumblr but will hopefully expand to other social media sites in the future.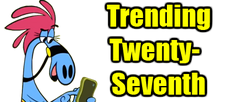 The idea of Trending Twenty-Seventh is that for every 27th of each month, Tumblr user Peepsqueak [1] posts a topic relating to Wander Over Yonder or SaveWOY. The fans then draft a post based on that topic and schedule it so that it will automatically be posted at 8pm EDT on the 27th. The tags 'Wander Over Yonder' and 'SaveWOY' need to be included as well as a @DisneyXD mention.
Then once the posts have all been published at once, Wander Over Yonder and SaveWOY will trend on Tumblr and be promoted on it's 'trending' page.
This time and date was chosen because on the 27th June at 8pm EDT, the Wander Over Yonder Finale 'The End Of The Galaxy' premiered in America. The posts are meant to reflect the premiere of the finale and show Disney that the fans are still waiting for another season.
July 27th 2016 - The first Trending Twenty-Seventh success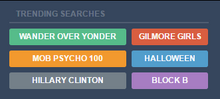 Trending Twenty-Seventh was first launched in July 2016. Its first launch was on July 27th. More than 100 fans took to Tumblr to post about what they liked about the show. From the characters to the story and animation. The tag 'Wander Over Yonder' started trending just short of an hour after the posts were made.
August 27th 2016
August's Trending Twenty-Seventh topic was about fans' favorite character from the show. Fans took to Tumblr posting screenshots, fanart and reasons why they liked their chosen character. "Wander Over Yonder" began trending just 15 minutes after the posts were made. It trended for just short of 24 hours. Roughly 85 posts were counted.
September 27th 2016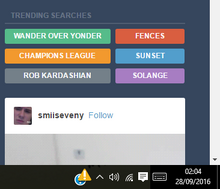 September's topic was about the first episode that the fans ever watched. After trending Twenty-Seventh went live, it took one hour for Wander Over Yonder to start trending. This month was also the first month of submissions for the Villain Leaderboard.
October 27th 2016
October's topic was about the fans' top three favorite episodes of season one. There was also a Thunderclap running alongside this month's topic in an attempt to expand trending twenty-seventh to other social media sites.
November 27th 2016
November's topic will be about the fans' top three favorite episodes of season two.
Timezones
The posts all need to be posted at the same time which means 8pm EDT must be converted to the fans' own timezone. [2]
6pm CST (27th)
8pm EDT (27th)
7pm PET (27th)
1am BST (28th)
2am CEST (28th)
3am MSK (28th)
8am CST (28th)
9am JST (28th)
10am AEST (28th)
References
↑ http://peepsqueak.tumblr.com/ Peepsqueak's Tumblr blog
↑ http://www.timeanddate.com/worldclock/converter.html Time Zone Converter