The SaveWOY Petition World Map
The creator of the SaveWOY petition, Peepsqueak wanted a way to show Disney just how worldwide the Wander Over Yonder fandom was so they decided to construct a world map based on the petition's supporter's locations. They used the website scribblemaps to create a world map, marking supporter's locations with a yellow star.
The second idea was also to encourage more people to sign the petition so they could have their name displayed on the map to go with their location. The world map was welcomed and praised by many fans.
Dave Thomas was even spotted looking at the map, commenting on Tumblr that Montana had no stars at the time, thus no supporters. [1]
The map can be found here.
Privacy Problems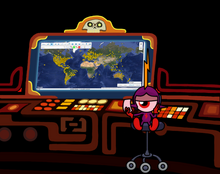 Eventually after completing the first 5000 supporters, a few fans voiced their concerns at the possible breach of privacy. Fans thought that their locations were being directly marked, right down to their street address. The map only placed a star randomly within the supporter's country but Peepsqueak decided to temporarily take the map offline while they changed the supporter's names to initials as a gesture of goodwill to the fans. [2]
Abandonment
The project was then abandoned since the idea of supporters signing to have their names displayed on the map was made redundant and it was difficult for fans to find themselves using only initials and a random location in their country.
The version 2 map with supporter's initials currently remains online, showing the locations of the first 5,000 supporters. [3] A screenshot of the map was sent to Disney Executives along with the petition on two flash drives in July 2016.
↑ http://owner-of-wendys.tumblr.com/post/141468826364/get-it-together-montana Dave Thomas comments on the state of Montana on the map.
↑ http://peepsqueak.tumblr.com/post/142583914707/an-official-apology Peepsqueak's apology.
↑ https://www.scribblemaps.com/maps/view/S9qbMCKcUL The V2 map of supporters.